Google Analytics terms and definitions
Are you ready to get started with the ultimate Google Analytics glossary? We've got you covered.
Active users
The active users report shows you a graph of all the people who browsed your website in the past 30 days.
Acquisition
Acquisition refers to how users land on your website. Users can arrive on your website through search queries, a referral URL, social media, and more.
All traffic
The all traffic report shows you an overview of all the traffic to your website. You can view which channels users found your website through, where they were referred from, and more.
Assisted conversions
Assisted conversions are actions a user takes before their final action that leads to a conversion. As a result, the interactions a user makes on their journey to conversion before their last interaction can be counted as assisted conversions.
Audience
The audience section details information about your website visitors, including the number of new and returning visitors, their demographics, and more.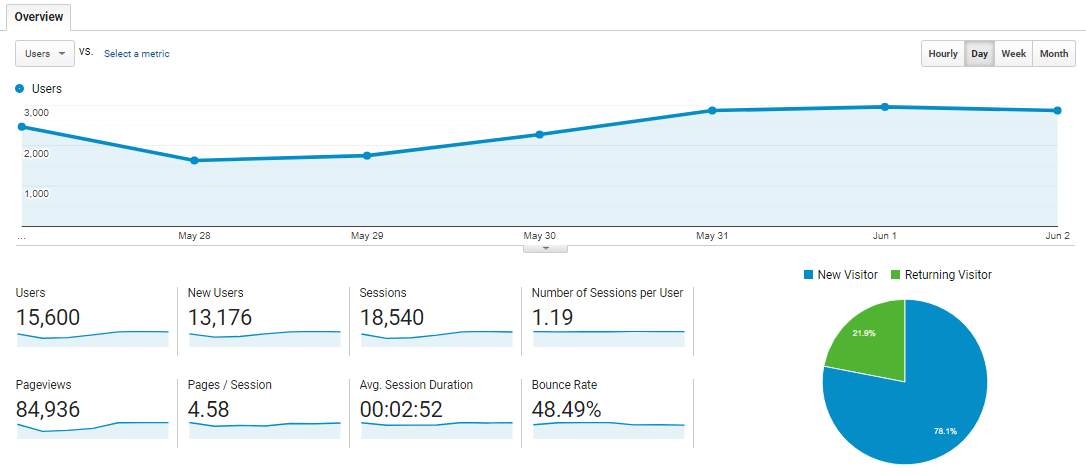 Average time on page
Average time on page is a metric that describes the total time users spend on your page divided by the number of pageviews.
Behavior
The behavior section enables you to track audience behavior on your website, such as the pages users visit, how much time they spend on pages, and more.

Behavior flow
A graphical representation of the path or flow each user followed when progressing through different pages on your website.
Bounce rate
Bounce rate is the percentage of users who leave your website from the page they entered on without any interactions.
Channel
A channel is a group of traffic sources that fall into a certain strategy, like social media or pay-per-click (PPC) ads. It can also be referred to as a marketing channel.
Cohort analysis
A feature that breaks down into related groups for analysis. The groups, also called cohorts, contain shared user characteristics or experiences.
Conversion rate
Conversion rate is the percentage of sessions that include a conversion. You can calculate it by dividing the number of conversions by the total number of sessions.

Conversions
The conversions feature allows you to create goals and track their completion. The feature offers many functionalities, including the ability to set a monetary value for each conversion to help track your potential revenue.
Cross-device
The cross-device report enables you to track users who visit your website multiple times on different devices.
Custom
The custom category refers to any custom tracking you've built into your URLs.
Dashboards
Dashboards are customized interfaces that you create to display specific metrics and data points. You can create a PPC dashboard, a website performance dashboard, and more.
Demographics
The demographics report shows you a breakdown of your website visitors' ages and genders.

Direct
Direct traffic comes from users who type your URL directly into their browser to visit your site.
Display
Display traffic comes from users who visited your website after viewing your display ad.
Ecommerce conversion
An ecommerce conversion occurs when a user successfully makes a purchase during an online session.
Events
An event enables you to track a specific interaction on your website. The events feature helps you track the actions a user took to complete the event you set up.
Filter
You can apply filters to reporting views inside Google Analytics to include and exclude specific subsets of data. For example, you can only include data from certain pages and exclude your own sessions on your website.
First interaction
First interaction is an attribution report model that gives all of the credit for a conversion to the users' first interaction or touchpoint on your website.
Geo
The geo report breaks down your website visitors by language and geographic location.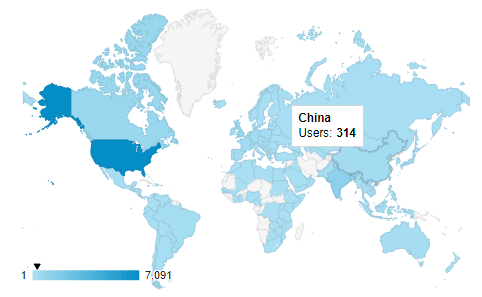 Goal
A goal represents any action that users complete on your website. You can set and choose custom goals. For example, you can set a goal to monitor how many users sign up to receive your emails.
Goal abandonment
Goal abandonment tracks when a user views at least one of your pages without completing the desired action.
Goal completion
Goal completion tracks a user completing your desired action in a given session.
Goal completion location
A report that shows you the page where a conversion occurred.
In-page analytics
A category that enables you to track user interactions on a specific page.
Interests
The interests report breaks down your website visitors' interests by category and in-market segments.

Last click conversion
Last click conversion is an attribution model where all of the credit for the conversion goes to the users' last interaction or touchpoint on your website.
Medium
Medium is a report that shows you your website traffic sources from a particular strategy, like PPC or social media, similar to channels. In other words, mediums show you exactly where your website traffic is coming from, like your paid search ads or social media page.
Metric
Metric describes quantitative data that you can describe using numbers.
Mobile
The mobile category shows you what type of mobile device your website visitors use when browsing your site.

Multi-channel funnels
Multi-channel funnels are a feature that shows you how your marketing channels work together to create sales and conversions. You can use it to get an overall picture of your sales funnel.
Organic
Organic traffic is unpaid website traffic that comes from search engines.
Pageview
A pageview is recorded each time a user views a page on your website.
Real-time
Real-time is a Google Analytics feature that enables you to view several metrics and data points as they happen on your website in real-time.

Real-time content
The real-time content report shows you which pages have been viewed in the past 30 minutes. It enables you to view which content is currently the most popular on your site.
Real-time conversions
Real-time conversion is a report that enables you to track goal completions and conversions as they occur in real-time.

Real-time events
A breakdown of events and interactions as they happen on your website in real-time.
Real-time locations
The current locations of all active users on your website.
Real-time overview
Real-time overview is the default dashboard for all real-time stats and metrics. You can view active user locations, current pageviews, and more.
Real-time traffic sources
Real-time traffic sources breaks down your pageviews in real-time per minute and per second. It also shows you which devices active visitors use to browse your website.

Referral
A referral is unpaid website traffic that comes from other websites.
Session:
A session is the number of times a user visited your website.
Shortcuts
Shortcuts enable you to "bookmark" a specific report for easy and quick access later. For example, if you frequently visit your demographics report, you save this report to your shortcuts, so you don't need to search for it manually.
Site content
Shows a list of all pages on your website with associated user statistics, such as which pages users entered your website on and which pages they exited from.
Site search
Site search enables you to view the terms users search for on your website.
Site speed
Site speed shows a breakdown of individual page loading time, suggestions for improvements, and certain user timings.

Social
Social is a marketing channel that tracks website traffic coming from social media sites.
Source
A source describes the location where a user found your website. For example, a source from "Google" shows that a user found your website after conducting a search on Google.
Technology
This report displays your website traffic by your visitor's technology, such as platform, screen resolution, and operating system.

Unique pageviews
A unique pageview counts a page as viewed only once, even if it was viewed multiple times in a single session.
Users
A user is a person who viewed your website.
Users flow
A graphical representation of the paths users took through your site, from the source to the various pages they visited to the page they exited on.